Do you know how to write blog content that is engaging and search engine friendly? Blogging is a great way to engage with your customers and grab the attention of search engines – if you do it right.
Writing original, compelling content that is useful to your customers is the first step in writing an effective blog post. The second, and equally as important, step is making your blog post search engine friendly.
Creating effective SEO-friendly blog content can be tricky and tedious. It involves research, testing, analyzing, and a positive attitude towards change and improvement! Search engine rules are constantly changing so it's important to research the latest tips and techniques to ensure your website is getting the traffic you want.
Your blog post needs to be seen as a good resource for relevant searches, both by readers and search engines.
5 Steps to Writing Search Engine Friendly Blog Content for Your Business

1. Blog Frequently
One of the most important steps in ranking your website at the top of search engines is posting frequently. Your blog posts and content may be stellar, but if you don't publish new posts regularly, you won't get the traffic you want. Search engines like to display websites that are continually updated with relevant content. If you're only posting once a month (or less!), search engines will assume your blog is not a good resource.
If you're just starting out, a good place to begin is posting a new blog post once a week. This keeps your content updated with fresh material so your readers have something to look forward to every week.
2. Write Your Blog Meta Tags
Meta tags help search engines find out what your article is about. The three general types of meta tags are: Title, Description, and Keywords.
Let's start with 

Meta Titles.
Meta titles are the most important meta tag because it helps search engines determine the most important information on your page and it appears on your URL, which is visible to all your website visitors. Your meta title should include your keyword (no more than once) and be less than 65 characters in length. It should also tell your audience what the content in your blog is about and give them a reason to want to click and read it.
An example of a meta title is: Writing Search Engine Friendly Blog Content for Your Business.
Great. So what about 

Meta Descriptions.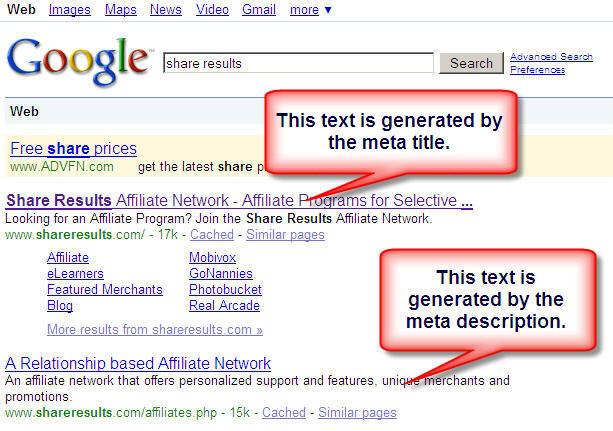 Meta descriptions are the short snippets that appear with your meta title on search engines. A good meta description should be action-oriented and articulate the value of your blog post. Try to keep your meta description under 155 characters. Make it welcoming, compelling, and concise.
An example of a meta description is: How to write search engine friendly blog posts for your business. Tips on ranking higher in search engines with original content and SEO techniques.
Lastly, let's talk about those

keywords.

  
Google long ago frowned upon meta keywords since some SEO writers started abusing them, but Yahoo and Bing still consider keywords in their search engine results pages. It's important to add at least 5 meta keywords to your article and use different variations of your keywords within your blog content.
Examples of meta keywords for our blog post are: blog content, blog posts, seo, content writing, search engine friendly blog posts, seo friendly blog content
3. Include Search Engine Friendly Images in Your Blog Content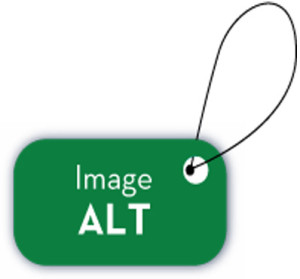 Search engines do not read your images, they read the "alt tag" that describes what the image is. It's important when adding images to your blog posts that you include an alt tag that describes the image using one of your keywords. You can also link your image back to your website.
A general rule of thumb is to incorporate at least 2 images into your blog post to help break up your content.
4. Length Matters for Your Blog Posts  
A good blog post length is between 400-800 words. It's important to write original content that is relevant to your customers and keeps your content fresh on search engines.
When writing your blog content, incorporate your keywords into your content at the beginning and end of article, and include it as a link to your website.
An example of this in our blog post is: This blog posts shares 5 tips on writing search engine friendly content for your business, visit our blog to see more on creating search engine friendly blog posts.
5 . Share your Blog Posts on your Social Networks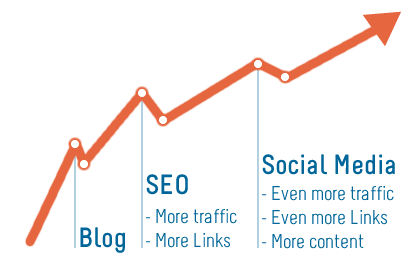 This last step may be a given to some of you by now, but it is a critical component to getting your blog posts found on search engines, ensuring more searchers are visiting your website and reading your awesome, original blog content.
Search engines depend on social networks to deliver high-quality search engine results to their searchers. The best way to encourage sharing and a higher visibility on search engines is placing social share buttons in prominent places on your page.
Be sure to share your new blog posts on Facebook, Google+ (this really helps your rankings on Google!), Twitter, LinkedIn, or other social networks your business is engaging in. Let your customers know you have new content that is relevant to them!
Conclusion:
Writing SEO friendly blog content for your business is not an easy task. It's important to write for your readers as well as search engines, and keep a natural, upbeat, and helpful tone.
These 5 steps are in no way exhaustive to creating seo-friendly blog posts. There's a long list of other techniques that are important to ranking higher in search engines for your blog posts. Don't get overwhelmed and take it a few steps at a time. This is a good start.
Good luck creating search engine friendly blog content for your business!
/ / /