Why Your Business Needs a Website
Do you want to increase sales while spending less on marketing? What about build relationships with customers and enhance your personal brand while sitting at home? You need a website. In fact, every business owner needs a website right now.
According to 2014 U.S. Census Bureau Statistics, 67% of businesses are using their website to market to customers.
Additionally, over the next 3 years, businesses that make use of the web expect to grow 40% faster than those that don't.

It's clear that having a website will help you increase sales, save money and grow your business. But, can your business survive without one? Let me tell you a story.
I love food. I love making food, eating food and growing food. I recently moved to a new town and don't know much about the area. One of my favorite things to do is trying new food and it thrills me to be in a city with so much variety, restaurants and independent businesses.
Sometimes, if I have the time, I'll drive in the city looking for restaurants, cafes or bakeries that peek my interest. I love walking around, looking through menus, and checking out the vibe. It's one of the things I love to do the most, but it takes a lot of time, energy and gas. All of which, are pretty hard to come by nowadays.
A few weeks ago, my best friend came to visit. We were both craving Greek food. We were hungry and didn't want to drive around hoping for a gold mine. Fortunately, I heard about a great spot from one of my co-workers, but couldn't remember exactly where it was.
Like nearly 90% of consumers, I used internet search engines to help me and my hungry friend find the Greek restaurant my co-worker was talking about. After a few minutes of searching, several options came up. None of which sounded like the one my co-worker had recommended. We didn't find their website or business address listed anywhere. We thought, "Now what? Don't they want our business??"
35% of consumers decide

NOT

to buy if a website is poor quality. 
Immediately, my friend and I switched gears and searched for Greek restaurants that had websites. Skimming menus and checking online reviews, my friend and I were determined to find a highly-reviewed local Greek restaurant, even if it wasn't the one my co-worker recommended.
After all,

79% of consumers trust online reviews as much as personal recommendations.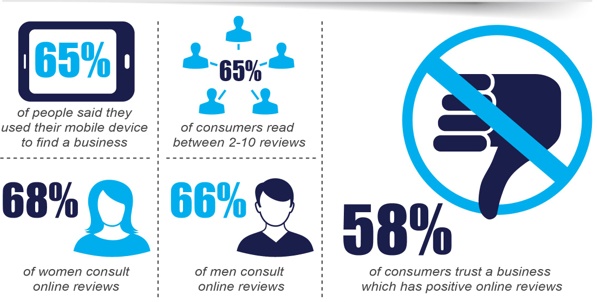 Only after looking at a few businesses, we found a local restaurant with a website, menu, and contact information! Eureka! They had their hours, location, and even allowed guests to make reservations online! What a brilliant idea to provide helpful information to new customers and make it easy for them to visit you! Just like that, my co-worker's recommendation went out the window and we were on our way to fill our bellies elsewhere.
While there are over 100 billion Google searches done every month and over 30 billion of those are local searches, do I have to answer my own question?
Can your business survive without a website? The crowd says: "Noooo!"
Not having a website is like

shutting your doors on nearly 50% of your potential sales.
48% of consumers say if they arrive on a business site that isn't working well on mobile, they take it as an indication the business simply does not care.
A website is a powerful and necessary marketing tool for every business owner. If these reasons aren't enough to convince you that you need a website, here are 5 more:
1) Your Competition Has a Website
66% of small businesses are maintaining or increasing their budget on digital marketing. From locksmiths to massage therapists, attorneys and florists, every business owner is using the internet to communicate and sell to their customers. The longer you wait to get online, the harder it will be to get high rankings on search engines.
2) 24/7 Easy Access to New and Current Customers

Your website is your complete, online brochure. It is a way for your customers to find you, get more information about your products and services, and contact you. This information can be available to them at any time, even when your physical doors are closed.
3) Build Your Reputation

A professional website shows you are committed to your business. It tells customers you care about them and are invested. One of the great things about getting your business online, especially if it's a business people already love, is that your fans can share their support by writing positive online reviews about you. This will help your website and could boost your rankings on search engines.
4)

Expand Your Market



Having a searchable website means your business is accessible to anyone in the world. Instead of your clientele being folks who just happened to be in the neighborhood, anyone can search, find and patron your business at any hour.
5) Save Money

Congratulations! You're now spending 62% less on online marketing than you did with traditional marketing. If you use a content management system (CMS) for your website, you can easily and quickly make changes at anytime, anywhere, at no charge. This also means you will have access to 24 hour promotion and ad space. Promote your products and services and explain why your business is different than your competitors. Show your visitors you care about them and your business.
Your website is a unique and powerful tool that connects you with your customers. It is a platform by which your visitors can discover you and a hub for you to convert them into repeat customers. Increase your sales, save money and grow your business. Are you ready?
NULOU Offers:

 Free Website and Secure Hosting with 1 Year of Inbound Marketing
Get a

FREE WEBSITE with HOSTING

when you sign up for 1 year of our

Inbound Marketing package
/ / /