If you want to keep your business open, you need to get online. A professional website and aggressive

SEO (Search Engine Optimization)

campaign is essential to getting your business found when people are searching for your services on search engines.
An important component of SEO is social media. You probably use Facebook to connect with your friends and family, but how do you use social media for your business?
How often should you post on your social networks? What should you post? And when?
Social media

is about creating new relationships and growing your brand exposure, among other fun things.
The first question you need to ask yourself is, who is your audience?
Think about what their day looks like. Imagine when they would have time to check their social media pages. This is different for B2C (Business to Customer) and B2B (Business to Business) companies. If you're targeting individuals vs. businesses, you'll find they have different opportunities to check their social networks.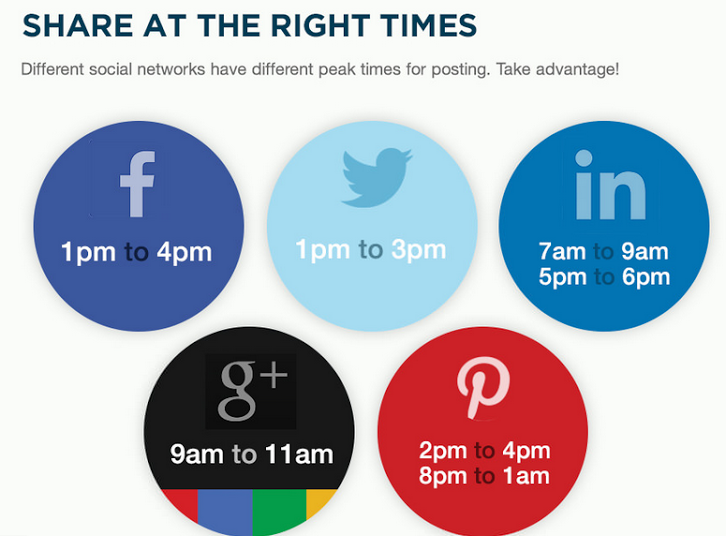 FACTS:
Tweets with images result in a 55% increase in leads

Photos generate 53% more likes and 104% more comments than text posts on Facebook

More people access Facebook from a mobile device than a desktop – 751 million monthly active users

55% of Pinterest users have engaged with retailers and brands via Pinterest

Google+: Fastest growing demographic is 45-54 years old
You know that 

Content is King

for your website. Well, the same goes for your social networks. So, what should you post on each social network?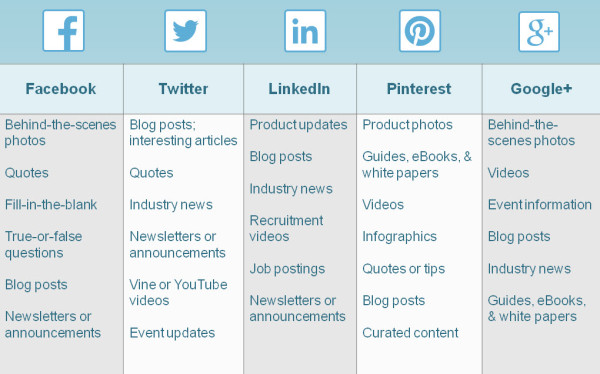 Seems a bit overwhelming? Well, every business does not need to engage on all the social networks out there. Depending on your audience, you'll want to be where they are.
Which social networks are right for your business? Here's a nice cheat sheet.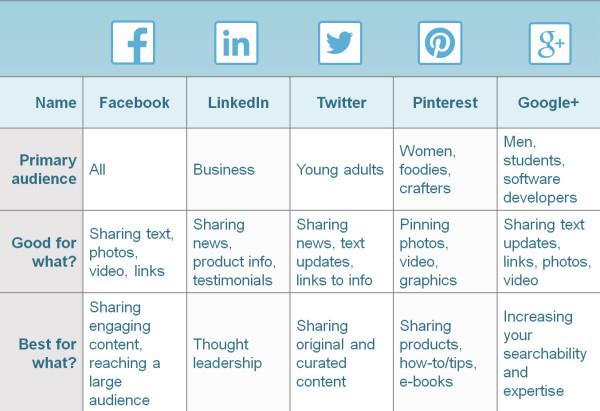 Now that you know what to post and when, how often do you do it? Here's the minimum and maximum number of times you should post per week on each social network. Integrate this into your daily to do and you'll see a definite increase in leads.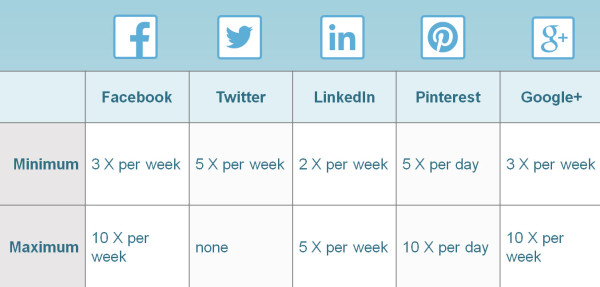 You won't see a lot of the same answers from one marketing blog to the next, but there are a few behaviors every online marketer can agree on:

1. Have a social media strategy
Please tell me you have one!
2. Be consistent
Sticking to a schedule is important for business. Be consistent when you're posting and how often.
3. Develop and maintain relationships
Talk to them, find out what your audience wants to hear and give it to them!
4. Test, test, test
Experiment with different strategies and keep an open mind, welcome change or improvement depending on the feedback you get.
Have more questions about keeping your business active on social networks?
Call (877) 647-2010 or

Email

.
We're here to help you grow your business!
/ / /